Do you need an outdoor TV for a covered patio?
Do you need an outdoor TV for a covered patio?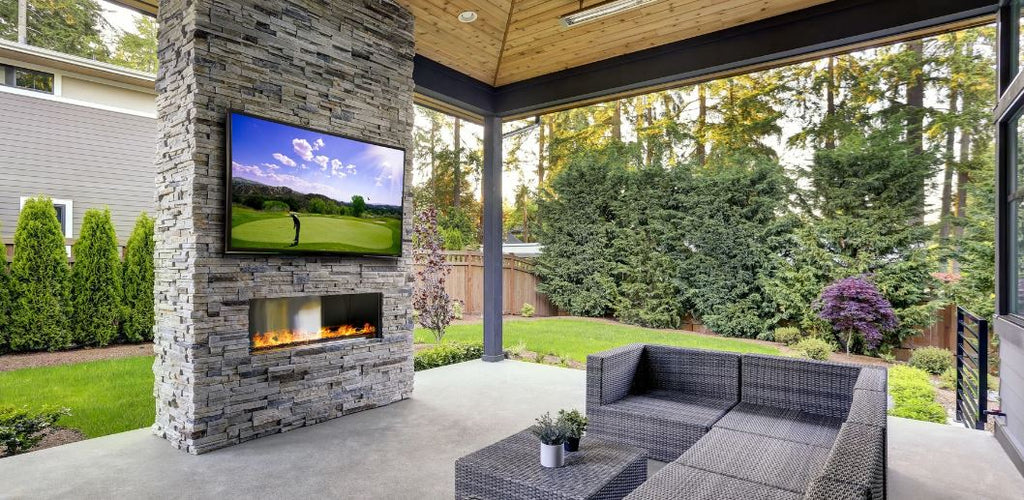 Save Money: Own a TV that is meant to be outside! Stop putting your indoor TVs outside to waste in the rain, sun, and other weather conditions…
(This is a No-Nonsense Guide to the Qualities you MUST look for when Investing into an Outdoor Entertainment System for under your Patio) 
… I'm sure you've heard that electronics and water don't mix! And everyone hates wasting money on buying a new Entertainment Systems because it's gotten wet or sun-damaged! 
When considering any outdoor Entertainment System the First Thing you should look at is Safety. No one wants Uncle Steve, Brother John, or Sister Beth to be electrically shocked by your TV that is unfit to be outside. 
It may seem like a great idea to bring your indoor TV outside to watch the PGA Tour or Sunday night football,
… but all goes to hell once the weather turns to pouring rain and your stuck there with the family packing up your newly waterlogged TV - even if it's under your patio. 
It's simple, indoor TVs are meant to stay, well, indoors… 
By bringing an indoor TV outside you void the warranty, put people at risk, and set yourself up for a big loss!
Don't be that guy or gal… 
All our TVs here at AllWeatherTV are designed and built so you can be darn sure that leaving one of our TVs outside will last in all conditions!
Discover how Sealoc TVs are designed here: CLICK HERE
The Second Thing worth considering is the Warranty! When purchasing any electronics, warranties are a lifesaver. As I said earlier, by bringing an indoor TV outside you void the warranty
That means, no matter how loud you yell at the person on the other end of the 1800 number or how long you wait in line at the return counter, the store will not take back your waterlogged, sun-damaged TV!
This is another reason why purchasing an Outdoor TV is a good idea. The TVs at AllWeatherTVs come with a manufacturer warranty and, like the Sealoc Coastal Series, it comes with remarkable patented technology to protect the interior and a tough as nails exterior casing that is airtight and water sealed! 
Now! Take Action on the Sealoc Coastal Series here: CLICK HERE 
The Third Thing - probably the most essential aside from having the TV actually last outside - is the Picture Quality.
This can not be overlooked… There would be nothing worse than having the boys over for a few cold ones and to watch the game - Plus show off your new TV - just to have them squinting and complaining about "the glare."
No one, absolutely NO ONE, likes watching a TV that is dim, bulky and has a reflection so clear it's like you are looking into a mirror. You want something bright, vivid, and provides 4K pictures in all conditions. 
So, when it comes to Investing into an Outdoor TV for under your Patio, make sure you cover your bases with these simple tips!
P.s., The Outdoor TVs that we sell are fairly priced, built to last, and have incredible features to cover the bases listed above. The Sealoc Lanai outdoor TV is less expensive than Sealoc's fully weatherproof model - the Coastal Series - and is specifically designed for under your patio cover!
The Sealoc 43" Lanai Silver series outdoor TV is only $1,399.99 vs the Sunbrite TV's 43" Veranda that costs a substantial 1,499.99 and only is protected for 1 year by the manufacturer warranty… 
And you can adventure into learning how one of our customs made TVs might be right for you by emailing us at (sales@allweathertvs.com)